Pick-Up Locations
Looking for a copy of Nashville Paw magazine?

Subscribe here to get it delivered to your mailbox all year long!

Or, pick up your free copy at the following venues as well as at events, adoption days and festivals throughout the year!
We distribute free magazines to locations throughout the following counties: Davidson, Rutherford, Sumner, Williamson and Wilson.
Don't see your favorite spot listed here? Let us know about it and we'll do our best to get it distributed there! Or, want to distribute Nashville Paw at your place of business or to your clients? Contact us at (615) 474-5710 or email us at info@nashvillepaw.com.
Sidewalk Box Locations:

NASHVILLE: HILLSBORO VILLAGE
(In front of Antique Archaeology)
1812 21st Avenue
Nashville, TN 37203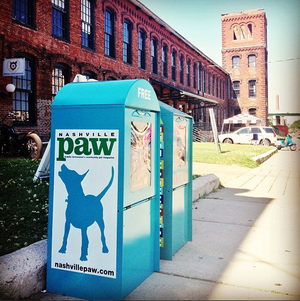 NASHVILLE: MARATHON VILLAGE
(In front of Fido Cafe)
1300 Clinton Street
Nashville, TN 37212





MURFREESBORO: PUBLIC SQUARE
(Across street from Maple Street Grill)
109 N. Maple Street
Murfreesboro, TN 37130

Whole Foods Store Locations:
Green Hills / 4021 Hillsboro Pike
Franklin / 1566 W. McEwen Drive
Pick-Up Locations by Area of Town:
Antioch (37013)
Blue Coast Burrito (in Lenox Village)
Nashboro Animal Hospital
Pet Med
Belle Meade (37205)
Kiva Salon & Spa
Nashville Holistic Pet
Natchez Trace Veterinary Services
Bellevue (37221)
Doggie Doos Grooming
Nashville Pet Products
Value Vet
Berry Hill / 12 South (37204)
8th & Roast Coffee
Baja Burrito
Camp Bow Wow
Cat Shoppe & Dog Store
Dizzy's Dog Wash
Doggy Rotten Daycare
Dogs & Kat Training
Miss Kitty's Bed & Bath
Nashville Pet Emergency Clinic
Nashville Veterinary Specialists
Portland Brew
Sam & Zoe's Coffeehouse
See Spot Eat: A Doggie Bakery
Veterinary Ophthalmology Services
Wags and Whiskers
Brentwood Area (37027)
Banfield Pet Hospital (in Petsmart)
Blue Coast Burrito (in Lenox Village)
Happy Retales Pet Supply Store
Nipper's Corner Pet Medical Center
Puffy Muffin
TN Veterinary Dentistry
Donelson / Hermitage (37214 / 37076)
Baxter Bailey & Company (Kiosk inside Opry Mills Mall)
Nashboro Animal Hospital
Nashville Cat Clinic
Phat Bites Cafe
Tidy Dog Grooming
Two Rivers Animal Hospital & Grooming
Value Vet
Downtown (37219 / 37210)
Peanut Shop, The (in the Arcade)
Puckett's Restaurant
East Nashville / Inglewood (37206 / 37216)
5 Points Animal Hospital
Baxter Bailey & Company
Beyond the Edge
Bongo Java
Crema
Dog Spot, The
Eastland Cafe
Family Wash
Mobley Veterinary Clinic
Pied Piper Creamery
Pied Piper Eatery
Portland Brew
Post East, The
Rosepepper Cantina
Shelby Bottoms Nature Center
Silly Goose
Sky Blue Cafe
Turnip Truck, The
Value Vet
Wags & Whiskers
The Wild Cow
Franklin / Cool Springs (37064)
Animalia Health & Wellness
Blue Coast Burrito
The Farm at Natchez Trace
Franklin Road Animal Hospital
Mars Petcare US
My Second Home Pet Resort
Nashville Pet Products
The Nutro Company
Whole Foods Market
Williamson County Animal Control
Williamson County Animal Hospital
Germantown (37208)
Goodlettsville / Madison (37072 / 37115)
Mobley Veterinary Clinic
Nashville Pet Emergency Clinic
Petsmart (Freedom Farm Adoption Area)
Value Vet
Vitamin Shoppe
Green Hills (37215)
Hendersonville / Gallatin (37075, 37077)
Barefoot Charlie's
Hendersonville Animal Hospital
Ma & Paws Pet Supply Company
Sumner Spay Neuter Alliance
Hillsboro Village / Belmont / Edgehill (37212)
Belcourt Theatre, The
Belmont Pet Resort, The
Ben & Jerry's
Bongo Java
Edgehill Studio Cafe
Fido Cafe
Jackson's Bar & Bistro
Pancake Pantry
O.liv Body Bar
Mount Juliet + Lebanon (37087 / 37088 / 37122)
Billy Goat Coffee
Dog Spot, The
Fix For Life Spay & Neuter Clinic
Little Paws Pet Resort
Mount Juliet Animal Shelter
Mount Juliet Public Library
New Leash On Life
Old Hickory Bistro
VCA Animal Care Center
Village Vet
Murfreesboro (37127 - 37130)
SIDEWALK BOX on Public Square (near 109 N Maple St)
Animal Care Medical Center
Beesley Spay & Neuter Clinic
Country Gourmet, The
Chuy's Restaurant
Five Senses Restaurant
Hair Kutters
Nashville Pet Emergency Clinic
Pa Bunk's Natural Market + Cafe
Rutherford County PAWS
Safari Pet Resort
Sugaree's Boutique
UPS Stores
Value Vet
Nolensville (37135)
Smyrna (37167)
South Nashville (37211 / 37220)
Animal House Veterinary Clinic
Grassmere Animal Hospital
Harding Health Foods
Metro Animal Care & Control
Nashville Pet Products
Value Vet
Sylvan Park / West Nashville (37209)
Come Sit Stay
Murphy Road Animal Hospital
Nashville Humane Association
Richland Animal Clinic
West End / The Gulch / 12 South / Marathon Village (37203)
SIDEWALK BOX at Marathon Village outside Antique Archaeology (1300 Clinton St)
Baptist Rx Express Pharmacy
Belmont Pet Resort, The
Blackstone Restaurant & Brewery
Bond Coffee Co.
Cafe Coco
Centennial Sportsplex
Cummins Station
Harlow Salon
Icon in the Gulch
Loews Vanderbilt Hotel
Noshville
O.liv Body Bar
Terrazzo Condominiums
Tin Roof
Wags & Whiskers
Plus...
Nashville Paw magazine is also available for pick up through select mobile pet businesses and at pet-friendly events throughout the year.